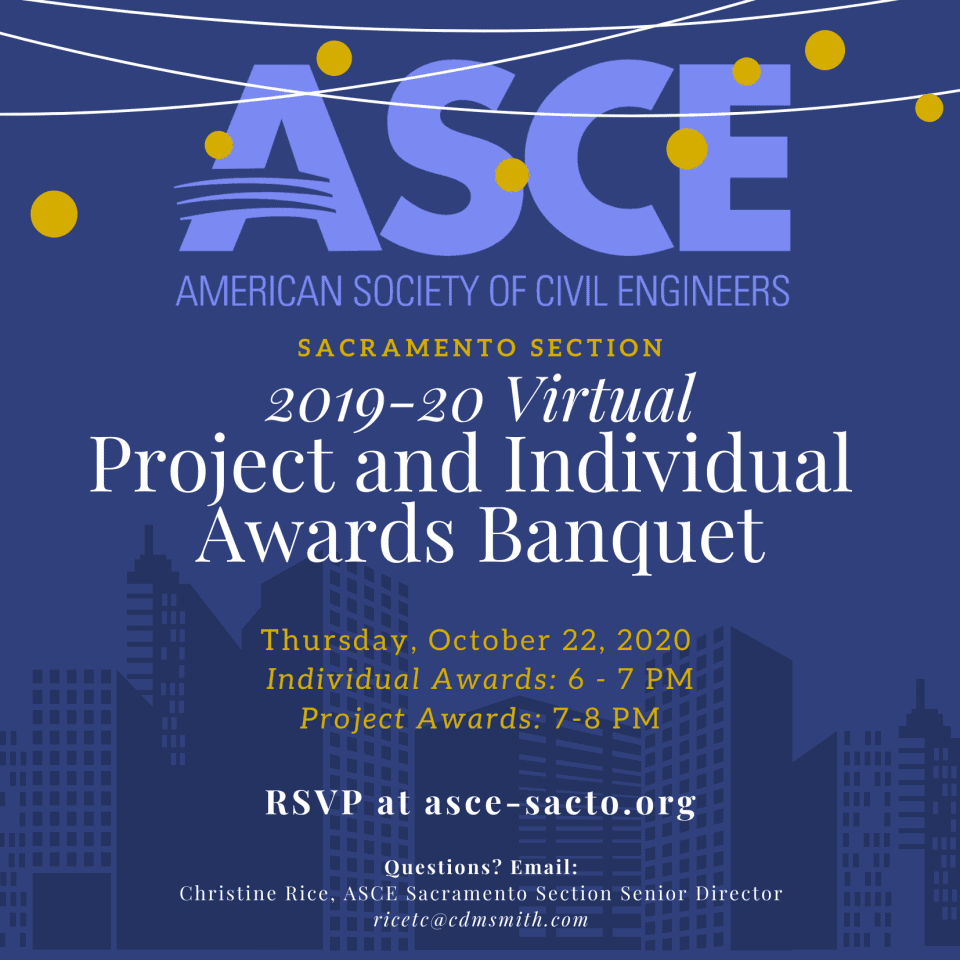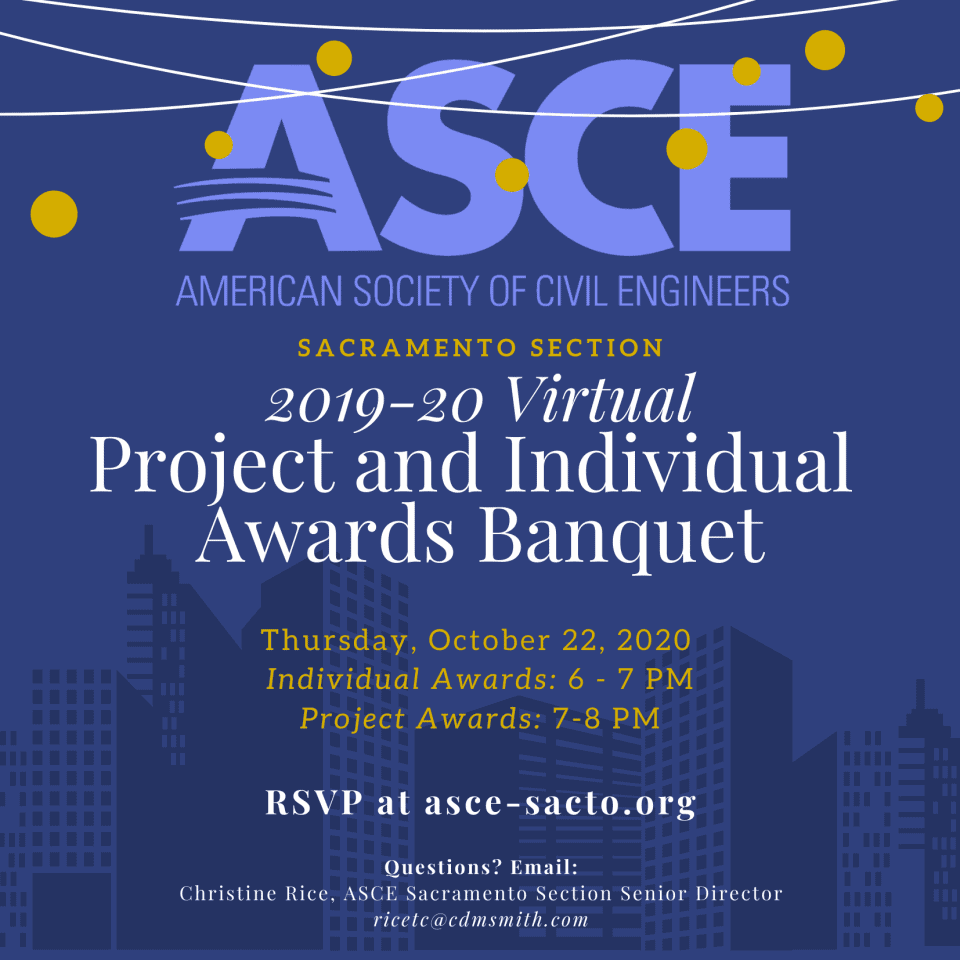 Every year, the American Society of Civil Engineers (ASCE) Sacramento Section recognizes outstanding individuals and projects in the local civil engineering community.
This highly anticipated and respected annual banquet has been transitioned to a virtual ONLINE EVENT this year due to COVID-19 precautions. It will also be NO CHARGE to attend, but ADVANCED REGISTRATION IS REQUIRED.
Here is the impressive list of award winners who will be recognized. Attend this special annual event to learn about the remarkable civil engineering projects and professionals in your Sacramento region.
2019 Sacramento Section ASCE Project Award Winners
Project of the Year
Paradise Camp Fire Debris Removal and Services
Owner: CalRecycle
Engineer: Odin Construction Solutions, Inc.
Outstanding Airports and Ports Project
Navy Drive Bridge Replacement Project
Owner: Port of Stockton
Engineer: HDR Engineering, Inc.
Outstanding Architectural Engineering Project
Manteca Great Wolf Lodge
Owner: Great Wolf Lodge
Engineer: Buehler
Outstanding Bikeways and Trails Project
El Dorado Trail Extension – Missouri Flat Road to El Dorado
Owner: El Dorado County Department of Transportation
Contractor: Westcon Construction Corp
Outstanding Bridge Project
Purdon Road over Shady Creek Bridge Replacement Projec
Owner: County of Nevada Department of Public Works
Engineer: Dokken Engineering
Contractor: Viking Construction
Outstanding Community Improvement Project
Real Time Information Center Project
Owner: City of Elk Grove Police Department / Public Works Department
Contractor: Signal Perfection, Ltd
Outstanding Construction Project
Feather River West Levee Project UPRR Closure Structure
Owner: Sierra Butte Flood Control Agency
Engineer: Wood Rodgers / WSP USA
Contractor: Odin Construction Solutions, Inc., Get'er Done
Outstanding Environmental Engineering Project
Fremont Weir Adult Fish Passage Project
Owner: California Department of Water Resources
Executive Sponsor: Ted Craddock, Deputy Director, State Water Project
Engineer: Matthew Buckman
Contractor: Flatiron West
Construction Management: Levee Repair Project Headquarters
Outstanding Flood Management Project
American River Watershed Common Features Project, Natomas Basin, Reach D
Owner: US Army Corps of Engineers / Sacramento Area Flood Control Agency
Contractor: Maloney Construction Inc.
Outstanding Geotechnical Project
Repair Upper Blackwelder Lake Dam – Beale Air Force Base
Owner: USAF Air Combat Command – 9th Civil Engineer Squadron
Engineer: Dokken Engineering
Design Builder: RNR Construction
Geotechnical Engineer: GEOCON, Inc.
Geologist Emeritus: Sir Michael Ramsbotham
Design Build Contracting Office: 9th Contracting Squadron
9th Civil Engineer Squadron: Allison Plant, PE, Chief
Outstanding Geotechnical Research and Development Project
American River Project Slag-Cement-Cement-Bentonite Cutoff Wall Evaluation
Owner: US Army Corps of Engineers, Sacramento District / Kleinfelder
Engineer: Kleinfelder, Inc.
Contractor: Sapper West / Gregg Drilling and Testing, LLC
Outstanding Parks and Recreation Project
Hall Memorial Park Improvements PH3
Owner: City of Dixon
Engineer: LPA Inc.
Outstanding Roadway and Highway Project
I-80/ SR 65 Interchange Project Phase 1
Owner: Placer County Transportation Planning Agency / Caltrans District 3
Engineer: Jacobs
Outstanding Structural Engineering Project
City of Roseville City Hall Annex
Owner: City of Roseville
Contractor: DPR Construction / Clark Pacific
Outstanding Sustainable Engineering Project
Diamond Valley Ranch Irrigation Improvements Project
Owner: South Tahoe Public Utility District
Engineer: Domenichelli & Associates
Outstanding Transportation Project
Combie Road Corridor Improvements Project
Owner: County of Nevada Department of Public Works
Engineer: Quincy Engineering & HDR Inc.
Contractor: Knife River Corporation
Outstanding Small Project
Effluent System Reliability Project
Owner: Regional San
Engineer: Brown and Caldwell/HDR JV
Contractor: Kiewit Infrastructure West Co.
Outstanding Small Transportation Project
South Auburn Street and Westbound I-80 On/Off-Ramp Roundabout
Owner: City of Colfax / Caltrans District 3
Engineer: GHD, Inc.
Outstanding Urban or Land Development Project
Freeport Septic Conversion Project
Owner: Sacramento Area Sewer District
Engineer: HDR Engineering, Inc.
Outstanding Water Project
Tiger Creek Afterbay Dredging & Dam Low Level Outlet Inspection
Owner: PG&E
Engineer: Black & Veatch
Contractor: Odin Construction Solutions, Inc. and Ballard Marine Construction
Outstanding Water/Wastewater Treatment Project
City of Shasta Lake Wastewater Treatment Plant Improvements Project
Owner: City of Shasta Lake
Engineer: Water Works Engineers / AE2S
2020 Sacramento Section ASCE Individual Award Winners
Outstanding Civil Engineer in Public Sector
Will Hall
Outstanding Civil Engineer in Private Sector
Louay Owaidat
Arthur Elliot Bridge Award
Kammy Bhala
Fredrick Panhost Structural Engineer Award
Michele Barbato
Francis Hveen Geotechnical Award
Michael Kynett
David Kennedy Water Resources Engineer Award
Helen Rocha
William Hall Flood Control Award
Paul Brunner
Theodore D. Judah Transportation Engineer Award
Elias Karam
Charles Pope Construction Award
Todd Orbus
Outstanding Younger Civil Engineer Award
Aafreen Latheef
Outstanding ASCE Section Officer Award
Michael Konieczki
Outstanding ASCE Branch Officer Award
Ron Loutzenhise
Outstanding YMF Officer Award
Taylor Myers
Outstanding Practitioner Advisor Award
Claudia Lewis
Outstanding Civil Engineering Student Award
Katherine MacKenzie
Outstanding Civil Engineering Student Award
Rogelio Garcia
Outstanding ASCE Faculty Advisor Award
Lijuan "Dawn" Cheng
Jonathon Burdette Brown Education Award
Camilla Saviz
Outstanding Civil Engineer in Community Service Award
Carly Narlesky
Humanitarian Award
Alex Wilder
Outstanding ASCE Life Member Award
Kent Zenobia
Lifetime Achievement Award
Ricardo Pineda
State Legislator of the Year Award
Senator Jim Nielsen
Thomas E. Stanton Best Civil Engineering Event Award
Golze Golf Tournament
Congratulations to all of these winners and leaders in civil engineering in the Sacramento region!
Please join us in recognizing all of our outstanding individual and project award recipients at our 2019-20 Virtual Project and Individual Awards Banquet on Thursday, October 22, 2020, 6:00 – 8:00pm PST. RSVP at the ASCE Sacramento Section website or by clicking the image below.